So I tried searching Google for a quick answer to how much it costs to rent a yurt, but I only found listings or information about building a yurt. I wanted to know how much it costs to rent a yurt … just a general idea. Staying in a yurt seems way more exciting than a hotel and way easier than a tent. At least for a beginner.
Since I struggled finding a direct answer to my question, I decided to do my own research on Airbnb yurt prices and share it with you. One crucial factor is that I only wanted a yurt with a bathroom … nothing too close to tent camping. 😅 I found that the average cost to stay in a yurt is $144 per night. Of course that can vary quite a bit depending on several factors, which I'll cover later. The cheapest yurt I found was $80/night and the most expensive one was $353/night.
Keep reading to get a little backstory and of course to get more specific details (including what I found to be the best times to book a yurt).
Some of the things I found were not what I expected.
But first …
Why A Yurt???
So, how many of you are intrigued by yurts and think they are the coolest things ever? I know we can't be the only ones, right?
I grew up tent camping, but my wife always had a camper, so … needless to say…I'm having a hard time convincing her that she would actually enjoy it!
Then … enter yurts …
She totally loves them, loves the idea of them, so this motivated me to want to research and find out all I could about possibly booking a stay in one.
Our First Time Staying in a Yurt
We were invited to stay in a yurt with family, and while we were both excited, this definitely raised some questions.
How similar are they to a tent?
How safe are they?
Is there a bathroom?
Is there heating and air?
How much does it cost?
Since we weren't the ones that rented it (it was a time share), we had no idea what it costs to rent one. But, as I said earlier, my Google search led to disappointing results.
I don't know about you, but I can get pretty exhausted from extended searching on Airbnb. I quickly get tired of making sure the filters are right, it never seems to sort the way you want it to, and you can't easily compare different dates for different places. And I've found that sometimes the nightly price that's displayed at first is VERY DIFFERENT than the actual price once you enter your information.
So I decided to document what I found so that we'll be ready to book one a lot faster in the future, and know what time of year is the best (cheapest!) to stay in a yurt.
Search Parameters
When I did my research, I decided to lay down some ground rules:
I did my search for only "instant book" for higher quality listings.
I searched for something with room for the 2 of us.
I didn't include the yurts for more then 4 people to keep it from getting too expensive.
I searched for 2 night stays.
I also tried to find yurts with cloth walls, to keep it official.
And last, but certainly not least, since we are not extreme outdoorsy people, it definitely needed to have at the very least a shared bathroom.
Yurts I found + tips and tricks.
Here's the list of the top 10 yurts I found in my research, in order from cheapest to most expensive. Hopefully we'll get to stay in ourselves one day!
If you stay in one of these(or one I didn't include) and love it, be sure to comment and let us know!
Location: Grants Pass, Oregon
Low Price: $80
High Price: $83
Booking tips: This one didn't fluctuate much in price, so that's good to know for a trip that during peak season and other places charge more, or for something last minute.
Pros:
Private continental breakfast included. It will be there when you arrive and they'll replenish throughout your stay. Here's what they include:
muffins
juice
water
fruit
yogurt
hard boiled eggs
oatmeal
What's unique:
No cleaning fee! Most listings on Airbnb have a cleaning fee, which they show you before you checkout. Still, it's nice that this one doesn't have that so you can save a little more, or at least feel like you're getting a better deal.
Oh… Did I mention it also has a hot tub??? Not bad for the cheapest yurt on this list. We'll definitely be thinking of this one through the winter!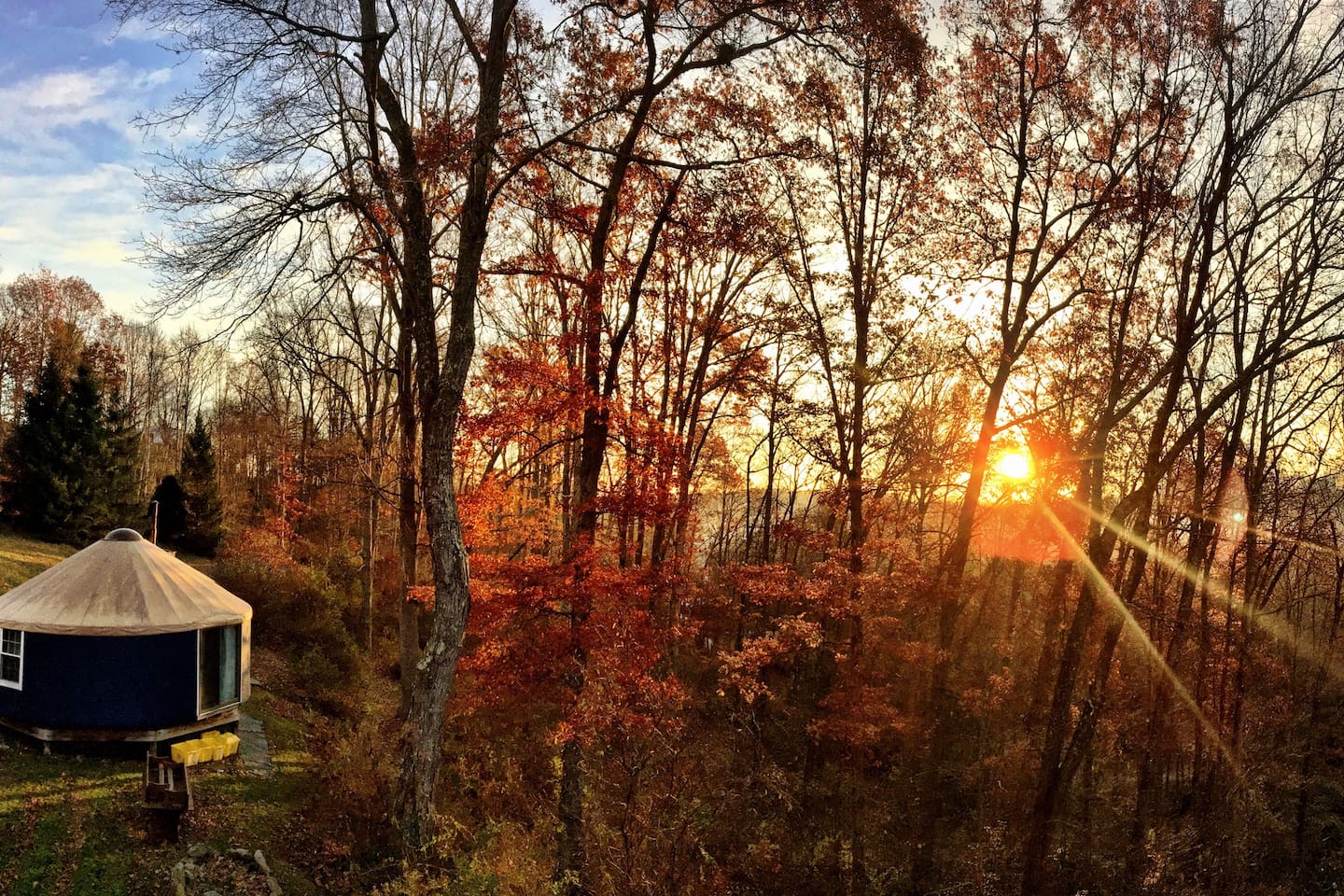 Location: Fayetteville, West Virginia
Low Price: $104
High Price: $107
Booking tips: This one didn't fluctuate much in price either.
Pros:
Full size refrigerator, washer and dryer. Not completely unique for a yurt, but it isn't something you always expect.
What's unique:
This yurt has a really cool loft to make the space feel much bigger and usable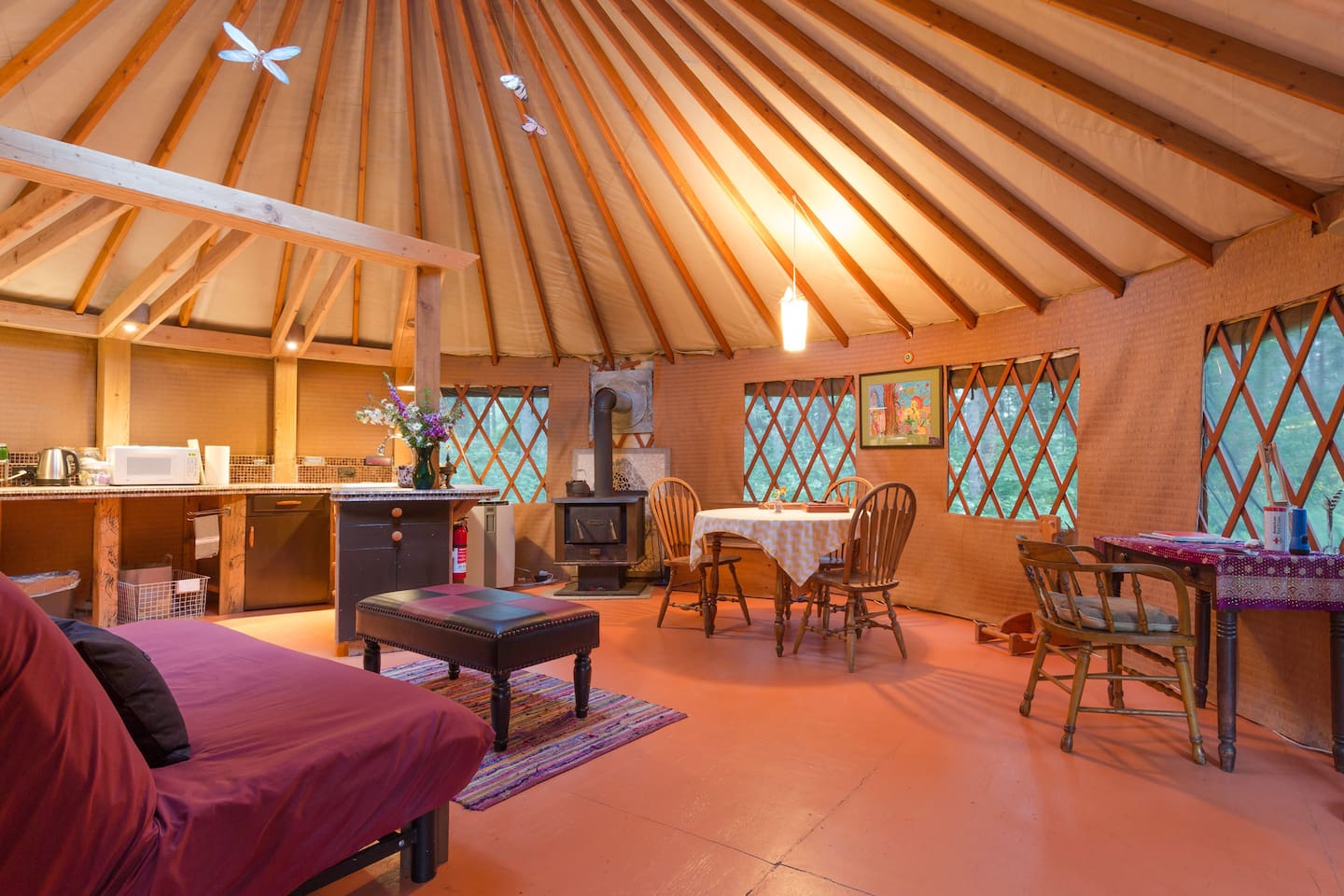 Location: Roy, Washington
Low Price: $95
High Price: $129
Booking tips: This one was $95 most of the year, but in November is slowly goes up to $106 midweek and $129 on weekends.
Pros:
We love the kitchen in this one! This yurt also has a full size fridge and a hot tub, but the hot tub is shared unlike the first yurt I showed you.
What's unique:
Check out the pictures to see where the "paisley" comes into play with this yurt…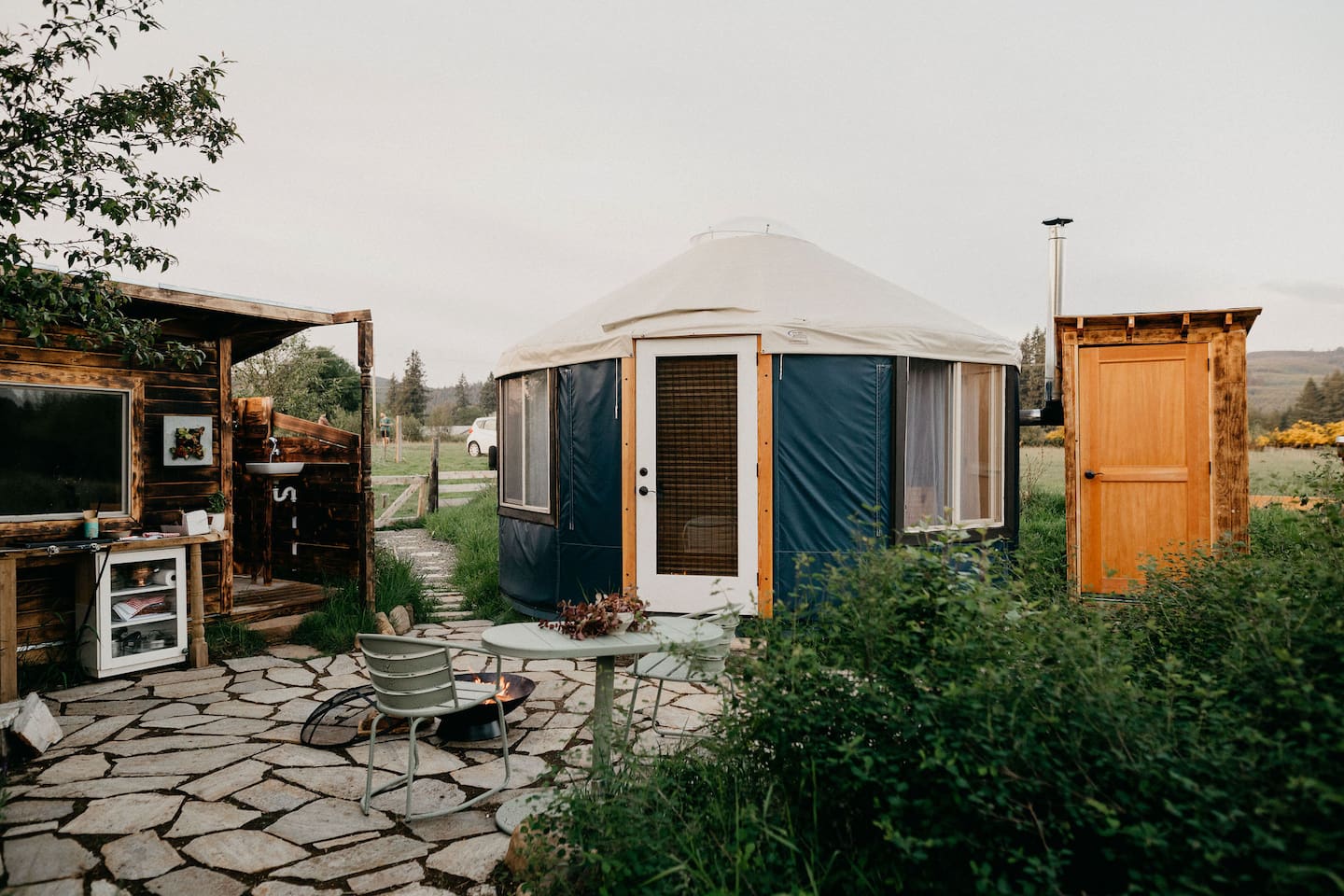 Location: Yacolt, Washington
Low Price: $115
High Price: $115
Booking tips: This one was the same price anywhere on the calendar I looked.
Pros:
Pretty much everything about this yurt looks perfect. I think this is where all of the yurt pictures on Pinterest come from … Well maybe not, but let's just go with that, ok? But seriously, check out the pictures on the listing and see what I'm talking about.
What's unique:
The hosts call this yurt a "wellness retreat" and it looks like that's a great description. It has a cedar sauna and a heated outdoor tub! This one may be my personal favorite on the list…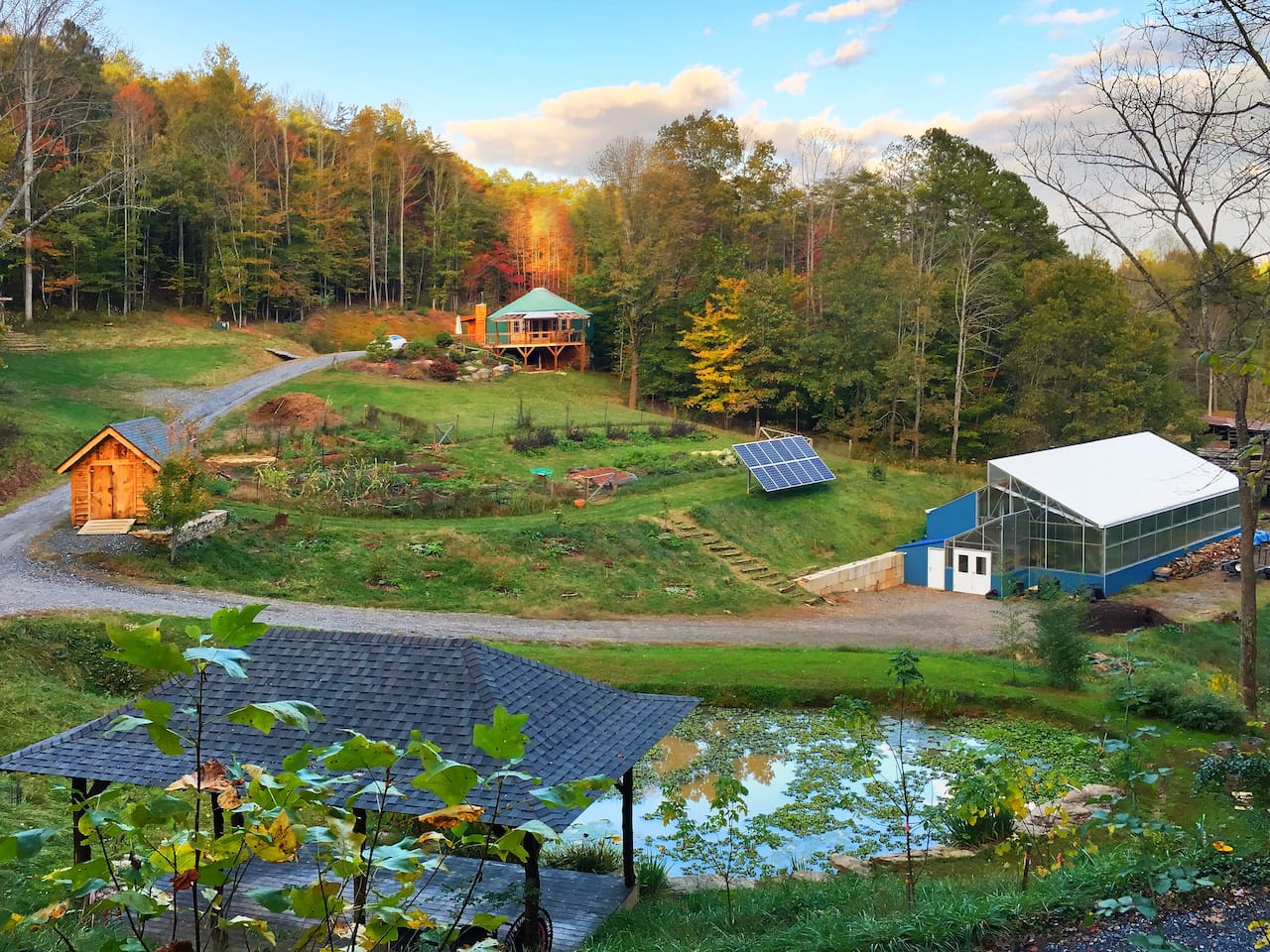 Location: Mars Hill, North Carolina
Low Price: $93
High Price: $140
Booking tips: This one was $93 in January but went up to $115 midweek and $140 on weekends.
Pros:
Private hot tub, the yurt is on a private farm area.
What's unique:
This yurt has a piano, I'm pretty sure that's a first. It also has a private pond for swimming and/or fishing!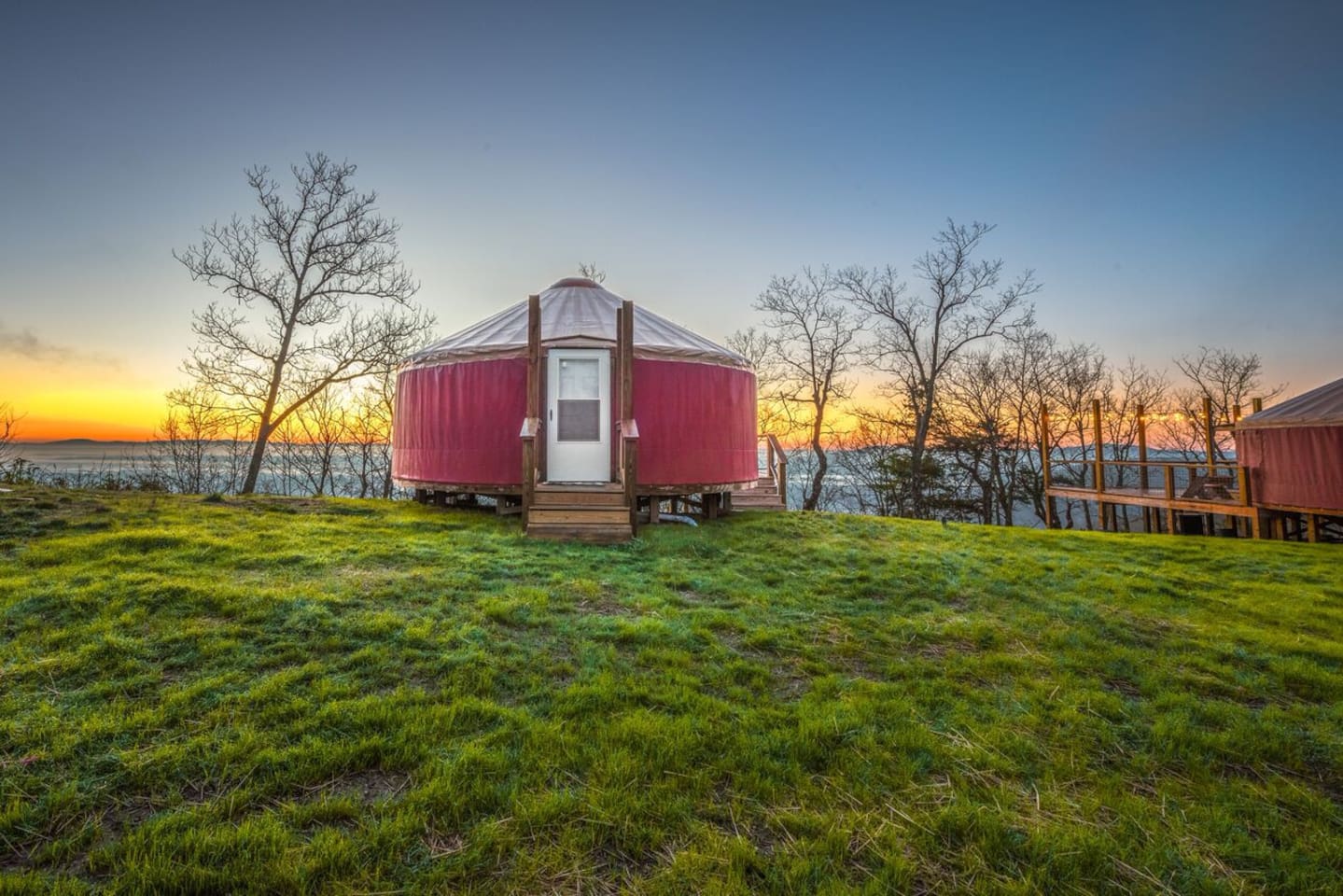 Location: Rising Fawn, Georgia
Low Price: $98
High Price: $142
Booking tips: This one was $98 midweek in January, then goes up to $112 midweek and $142 on weekends.
Pros:
This one also has a full size fridge, and the floor plan takes advantage of the circular shape in a very nice way. The back deck looks incredibly amazing.
What's unique:
On the top of the mountain, and has a dishwasher.
Location: Garden Valley, California
Low Price: $125
High Price: $145
Booking tips: This yurt is $125 all of February, but goes up after that to $135 midweek and $145 on weekends.
Pros:
This place looks like the perfect blend of luxury and being in the middle of nowhere. It doesn't sound like a natural mix, but take a look at the listing you'll see.
What's unique:
3 words: Vanishing … edge … pool! Seriously, CHECK OUT THIS LISTING!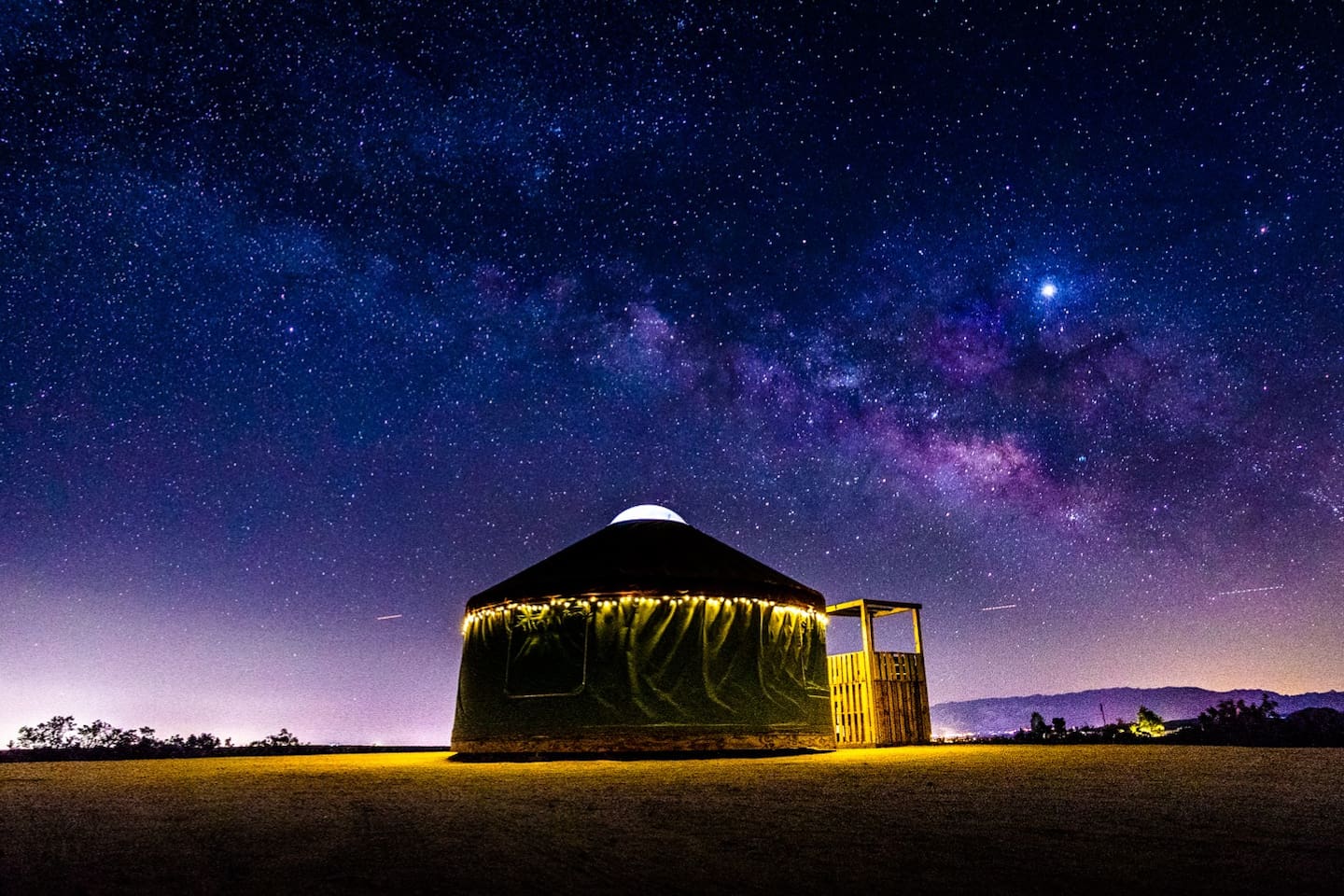 Location: Joshua Tree, California
Low Price: $125
High Price: $150
Booking tips: This one was $125 in January and very quickly goes up to $150.
Pros:
Such a great looking spot. Once again, the pictures say it all.
What's unique:
Take a look at those stars…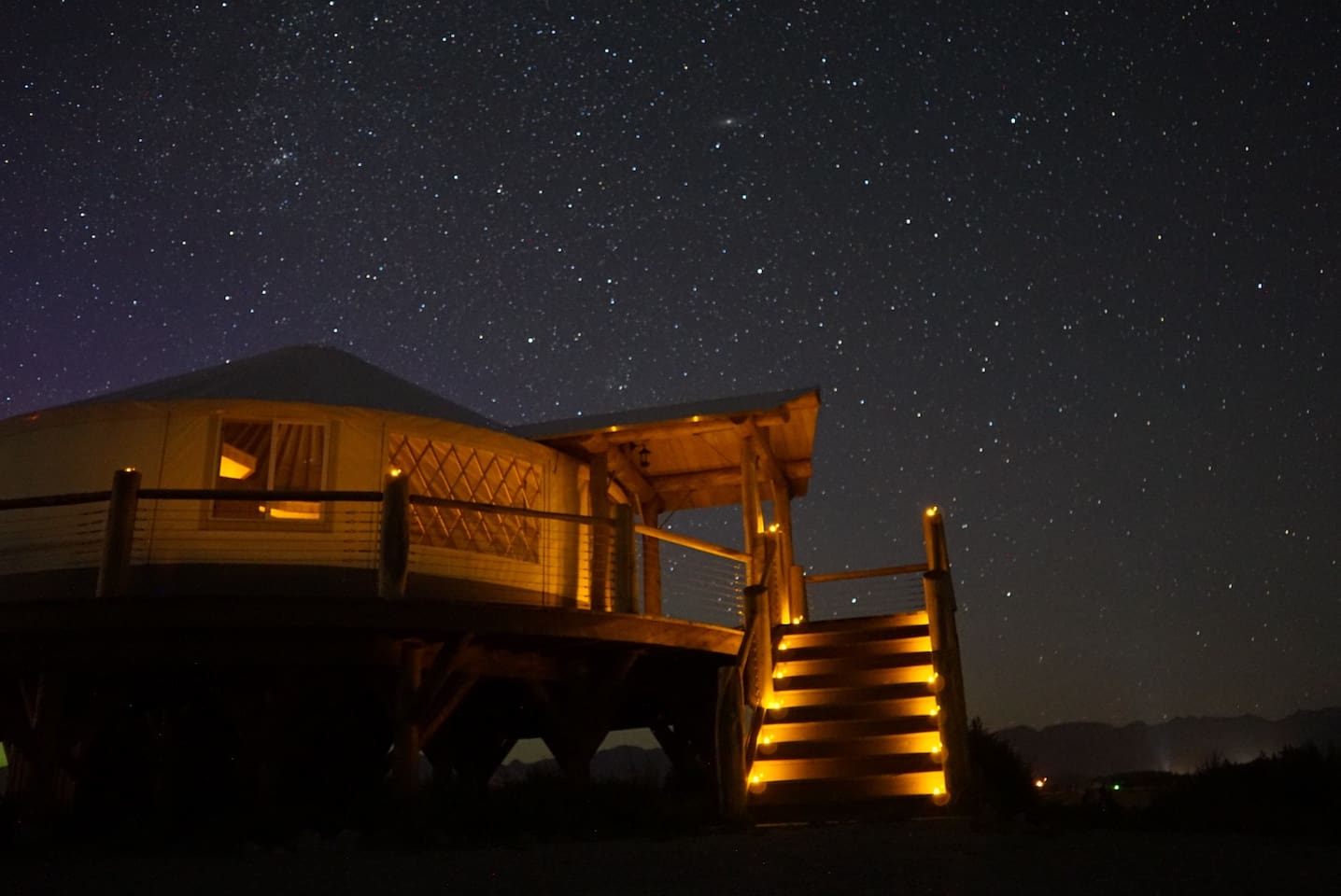 Location: Somers, Montana
Low Price: $140
High Price: $265
Booking tips: This yurt starts out at $140/night until April 10 then goes to $150 and slowly but steadily climbs to $265 for pretty much the whole months of July and August. So the sooner you can stay in this yurt, the better.
Pros:
The kitchen in this yurt is pretty amazing. It has nice wood all over the interior and tile to accent it. It even has a washer and dryer!
What's unique:
This yurt is in a nice wide open flat area with some beautiful mountains around it. The view looks breathtaking!
Location: Wimberley, Texas
Low Price: $221
High Price: $353
Booking tips: I found a couple of night for as low as $221 (January 24 through 26), then it is typically $276 but with some high nights as much as $353 (March 16 through 18)
Pros:
This one looks awesome, of course. It is also the most expensive on the list. To be honest this will probably always be out of our price range, but hey we can dream right?
What's unique:
This one is with other yurts, hence "Yutopia" so it gives a nice sense of community, if that's what you want on your vacation. Super cool rock shower and fire pit!
Conclusion
So if you didn't want to stay in a yurt before reading this, I feel pretty confident that you do now. I know I feel like a yurt is in our future travels.
This list is definitely not complete and may get updated as we find more yurts and hopefully get more firsthand experience. But hopefully this answers the question of how much it costs to rent a yurt for you, please share this post with others that might benefit from this too.
If you know one of these yurts or another that you think should be on this list then please comment and let us know!